What can harvested rainwater be used for?
Rainwater for External Use: Harvested rainwater can be used outside for purposes such as: Water the lawn and flower beds; Supplying water to an irrigation system; Filling up your swimming pool or fish pond; Washing your car, motorcycle, or boat. Rainwater for External Use:By adding a 4 Stage filtration unit to your solution, harvested rainwater can be purified and pumped back into your home for use in bathrooms, kitchens, and even drinking.
Rainwater Harvesting
Speco believes that access to clean water is not only everyone's right but also everyone's responsibility. In line with this ethos, our aim is to give our clients the ability to manage this precious and limited resource responsibly. It is this belief that ultimately led us to the creation of the rainwater harvesting system with tank range from our partners. A collection of aesthetically pleasing, space-saving water storage tanks designed specifically for urban & rural areas. Covering all aspects of water management from rainwater harvesting to domestic water storage.
What is Rainwater Harvesting?
Rainwater harvesting is the process of collecting rainwater which falls onto a roof surface and storing it for use at a later stage. By harvesting and utilizing rainwater both in our homes and gardens, we reduce our demand for municipal water, treatment plants. The use of harvested rainwater will also aid in reducing your monthly water bill and making your home more self-sufficient.
How we plan to achieve our Mission: By developing water management solutions designed specifically for your home. By putting the power of environmentally friendly water management in the hands of our clients. By allowing our client to be self-sustainable in the event of periodic water failures By remaining a market leader in water management solutions through technology and innovation. By ensuring the water solution we offer, comply with health and safety standards to ensure the safe storage and consumption of water. By ensuring that we provide quality products designed for long term use thereby giving our clients continued value.
Rainwater Harvesting Process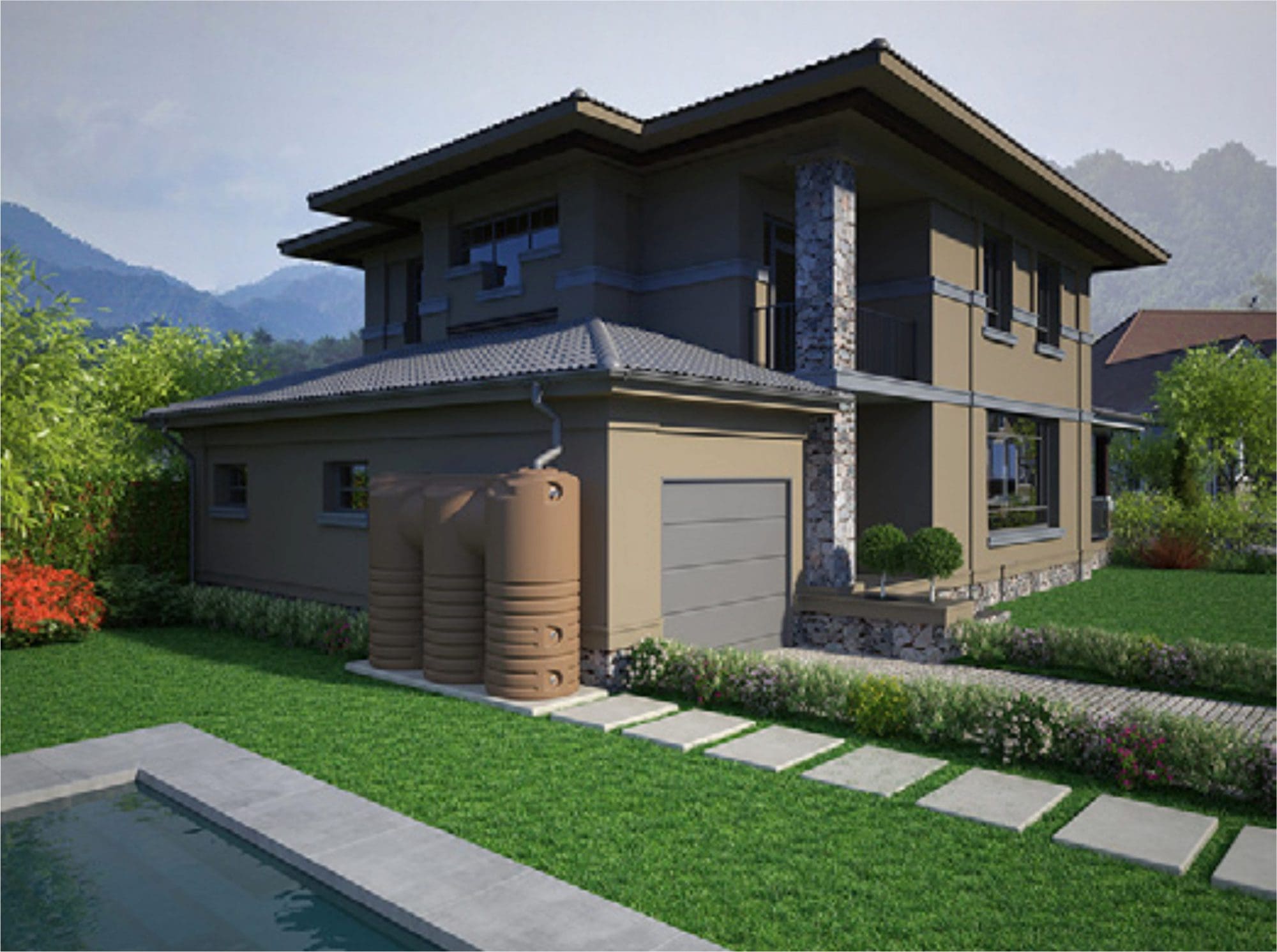 Step 1: Rainwater from the roof surface is channeled along the gutter to the downpipe.
Step 2: The downpipe feeds the rainwater directly into the top of the tank. Leaves, twigs, and other debris are filtered out by the stainless steel mesh filter screen situated below the tank lid.
Step 3: The harvested rainwater is then stored in the tank until it is needed.
Step 4: A booster pump is used to draw stored water from the tank, pressurize it, and deliver the water to the desired application.
Free Consultation & Obligation Free Quote
We go an extra mile to make our clients happy.